Good Morning My Love Images & Messages
Wish "good morning my love!" to your partner with these good morning love quotes, pictures, poems and sms text messages. Start their day off full of love by sharing your feelings and showing them how much you love them. Here you will find:
Good Morning Love Images
Romantic Morning Quotes
Good Morning Messages & Texts
Romantic Morning Poems
It can be hard to get going in the morning and nothing is more inspiring than an expression of love from the most important person in your world. I have found that when I send a good morning message to my love it is one of the easiest and most effective ways to brighten our morning.
Or check out our Romantic section, for more ideas on how to woo your love!
So, take a look at the good morning my love images and messages here and find the perfect one to send to your love and start the day off overflowing with love and romance!
You may also be interested in our huge collections of love quotes for him and love quotes for her many of which are also placed on beautiful and romantic pictures. Or these good morning blessings.
Smile, share, give, love! 🙂 ♥
Good Morning Love Images
Say "good morning sweetheart" by choosing and sending your partner the perfect good morning image with love that will touch their heart and show them how deeply you care. A picture is worth a thousand words, as they say, so use these sweet good morning pics to say "good morning I love you"!
Looking for beautiful and inspirational good morning wallpaper?
Good Morning My Love Quotes
Perhaps you prefer to use love quotes? If so, here you will find many romantic and heartfelt good morning wishes and quotes. Or check out our huge collections of good morning quotes for her or good morning quotes for him.
When I wake up in the morning, I am thinking of you. When I go to sleep at night, I am thinking of you. And all those hours in between, I think of us. Good morning to my love!
Everything I am is because of you. You are my strength, you are my inspiration. Seeing your face in the morning is what keeps me going.
Getting up in the morning is exciting because you are a part of my life. You are the light of my life and the sun in my sky. Good morning my dear.
I dreamt about you last night and woke up with such a great feeling because I know that you are not just a dream but the reality of my life.
You have found true love when you realize that you want to wake up beside your love every morning even when you have your differences. Good morning dear friend, dear love.
Sometimes I wish there was no alarm clock because that is the only device which wakes me up while I am dreaming of you.
Every morning is a joy because it is another chance to see your lovely smile, your penetrating eyes and your sweet lips. I cannot wait for this night to pass and to see you again in the morning.
I awoke and wanted to send a good morning message to my love to express how I feel. Look at the brightly burning sun and you will know the extent to which my heart burns for you.
When I begin my day, I wish to see your sunny face. I want to hear your sun-kissed voice and see you brush your silky hair. Good morning beautiful!
Every morning my love for you keeps growing. You are my dream come true. Good morning dear.
"If you live to be a hundred, I want to live to be a hundred minus a day so I never have to live without you."
– A.A. Milne
"Your words are my food, your breath my wine. You are everything to me."
– Sarah Bernhardt
"For it was not into my ear you whispered, but into my heart. It was not my lips you kissed, but my soul."
– Judy Garland
"Come live with me, and be my love, and we will some new pleasures prove, of golden sands, and crystal brooks, with silken lines and silver hooks."
– John Donne
Looking for more love quotes for her or love quotes for him?
Sweet Morning Text Messages
Here are some texts that you can share or send to your beloved in the morning time. We hope you find the perfect way to wake them up!
Interested in more good morning love sms texts?
Romantic Morning Poems
If you prefer to send poems as a loving morning note, then these morning love poems will help you find the right words. These poems are a great way to say "good morning and I love you"!
1)
If I could have all the time in the world,
I know just what I'd do,
I'd spend all my time,
With your love so sublime,
Just being here with you.
2)
Good morning to my love,
All night did I wait,
To tell you this moment,
You are my destiny, my fate.
3)
I never knew true happiness,
I thought dreams wouldn't come true,
I couldn't really believe in love,
Until the day I met you.
4)
Watching you sleep you look so peaceful,
The joy I feel is beyond words I can say,
Good morning my sweet angel,
Thank you for waking and making my day.
Good morning my dear!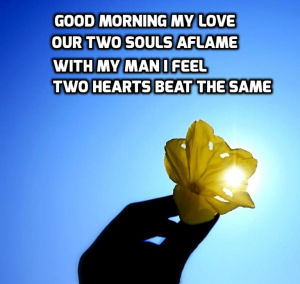 5)
If tomorrow my life were over,
With many things yet to do,
It wouldn't matter one bit,
Because, my love, I had you.
6)
You are my sun rise,
Your love is my great prize,
From morning till night,
I shall seek to hold you tight.
Good Morning to my love!
7)
Morning has come,
And I miss you it's true,
And though you're not near me,
I am full of love for you.
8)
You are awake, you are here,
All night was confusion, but now it is clear,
It is you that I want, you that I need
And thanks to you my love, my heart has been freed.
9) Good Morning Dear
On this beautiful morning,
I want to send you all my love and luck,
May your day be full of joy and cheer,
May your day be terrific my dear,
Good morning wishes I'm sending to you,
For this day to blossom with beauty anew,
Good morning dear.
10) Good Morning Kiss
The clear blue sky and sun-kissed air,
The morning dewdops so precious and fair,
I want to hug you tight and kiss,
And stay in that moment so endless,
My man, seeing you wake next to me,
I am full of joy and gladness you see,
Right now all I feel is my heart race,
As I long for nothing but your embrace,
While sleeping it is you I miss
And now it's time for our good morning kiss.
11) If Only You Were Next To Me
When I turn around and see
That you are not lying next to me
As the window shows the morning dew,
I lie here wishing I could snuggle you,
And only if I could hug you tight,
It would be so magical,
To have you through the night,
Missing you so this morning.
12) I Am Here to Stay
I love you and I am here to stay,
That is what I will always say,
Kiss me and I can struggle breathe,
Sending shivers into my knees,
When distance draws us far apart,
Passion flows over in my heart,
Love divine and so very true,
Knowing that you feel it too,
I dreamt about you during the night,
Lying there and holding you tight,
Interlacing your fingers within mine,
As if our hands were made to rhyme,
I love you I need you I'm here to stay
I will follow you always no matter the way.
13) Love – By Pablo Neruda
Of everything I have seen,
It's you I want to go on seeing:
Of everything I've touched,
It's your flesh I want to go on touching.
I love your orange laughter.
I am moved by the sight of you sleeping.
What am I to do, love, loved one?
I don't know how others love
Or how people loved in the past.
I live, watching you, loving you.
Being in love is my nature.

14) Good Morning My Love – By Ravi Sathasivan
When the morning sun rays wake up me from my sleep
When the fresh crisp air blow through the windows
When those birds on the tree chirps and welcome a new day
When those flowers on the trees have turned their face high
When the church bells call for prayers in the morning
Then I wake up and think of my last night dream with you
and rush to my telephone to say you 'Good Morning My Love'
My days never ever start without talking to you in the morning
nor my life never sail smoothly through out the day
Your sweet words being to light up my day my love
and your morning kisses will make my heart sunshine ever
Having you in my life will bring me the mountain of happiness
and the love you shower on me is like a silver brightness
I can not explain the love I have for you
and my days are not enough to love you either
My love is as strong as it is true from morning to night
Let me tell you again 'Good Morning My Love '
and thank you for you being attached to me love
Good Morning Images & Pictures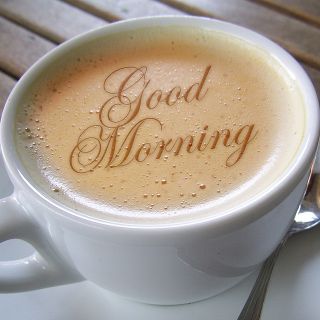 We hope that you were able to find the perfect good morning quotes and images to share with those you love. This collection of carefully designed and chosen good morning images for her and him was created for you to enjoy and share with your partner. It is our hope that these will help strengthen your bond and deepen your connection. If, however, you did not find what you were looking for, please look around our site as we have many other quotes, messages and images. If you were searching just for beautiful good morning pictures, without any words on them, then check out our collection of good morning wallpapers and images.
We truly hope you enjoyed these wishes, texts, pictures and poems. Please share the love with others!
Looking for more good morning poems, good morning thoughts, or funny good morning messages?