Boyfriend Quotes
Are you looking for the best boyfriend quotes to express how you feel about him? Below you will find heartfelt, loving, adorable, sweet, romantic, downright hilarious and cute quotes for your boyfriend. Love is such a beautiful feeling and if you find that man who turns your world upside down in a good way, then let him know how much you adore him! It can be hard sometimes to express your feelings, but these quotes will help you to do just that and make sure you never let him go. We hope that you will find these quotes and messages will inspire you to tell him how you truly feel.
In this collection you will find: 1) cute boyfriend quotes, 2) I love you quotes for boyfriends, 3) I love my boyfriend quotes, 4) funny boyfriend quotes and 5) romantic boyfriend quotes. Be his best and last girlfriend and send him one of these bf quotes.
Cute Boyfriend Quotes
Send cute quotes for your boyfriend by text, Messenger, WhatsApp or any other means and make his day a happier one. Add some sweetness, spiciness and flair to your relationship with your man by sending him one of these cute quotes. Nothing is more adorable than a romantic girlfriend who makes their boyfriend feel like their knight-in-shining armor.
Without you my life would be boring, thanks for keeping me happy and loved.
You mean everything to me, meaning you are my everything.
I can't explain how empty I feel when you're not around. Please stay by my side.
Wake me up in this wonderful fantasy for I have met the man of my wildest dreams.
I like you… I love you… I think about you… like a lot!
Kiss me so I can feel the fireflies and butterflies in my stomach again and again.
I don't care about anything but your sweet sweet lips and strong arms.
You are the 'U' in my "favourite" and you are the 'one' in my "very special someone".
I am having the best time of my life because you are in it.
My best friend, my bestie, my amigo and bff is my boyfriend.
Do you know that I find you cute, sexy, hot, smart and husband material?
Roses are red, blueberries are blue, you are really adorable, I just want to eat you!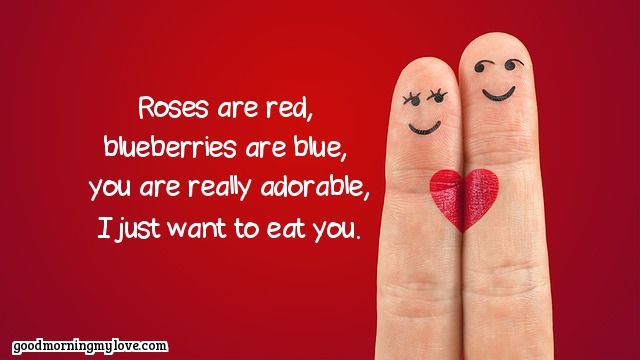 You get me and you make me smile. I am the happiest girl because I have a man like you.
I can't get enough of you, your cuddles, hugs and kisses. They are so addictive.
From your face to your body, to your heart to your intellect, I love every part of you.
To love you is to receive a glimpse of heaven and to get to taste the sweetest treat in the world.
I want to be your girl forever and ever and ever and ever.
Even if we are far from each other please know that only you can give me the feeling of love.
When I see you my heart turns into a beating drum and my eyes turn into hearts.
Of all the people in this planet what are the odds that I met you, fell for you and fell in love with  you. It's fate!
You turn me into a smiley, happy, excited and love emoji.
I Love You Quotes for Boyfriend
Here we have some of the most touching, beautiful, romantic and the best ways to tell him you love him. Make him feel needed, wanted, loved and be the super girlfriend that he knows every minute and every hour of the day with some of these love quotes for boyfriends.
You put a twinkle in my eye, butterflies in my stomach and you bring love into my heart.
Just know that I am always thinking about you and that you are so ridiculously loved.
You are my favorite past time, pleasurable obsession, amusement and hobby. They are all the same, but you get what I mean. I love you honey!
When I think about my future, I see you in it. Holding my hand through the good times and bad.
I love the way you look into my eyes. I feel so much love and passion through them.
Being with you makes my day, being loved by you makes my life. You make me content and happy. I love you my boyfriend.
I knew you were special the first time I laid my eyes on you. I love babe!
All you have to do is look at me with those loving eyes and I know I am home. I love you so much.
I am never not loving, dreaming, fantasizing or thinking of you.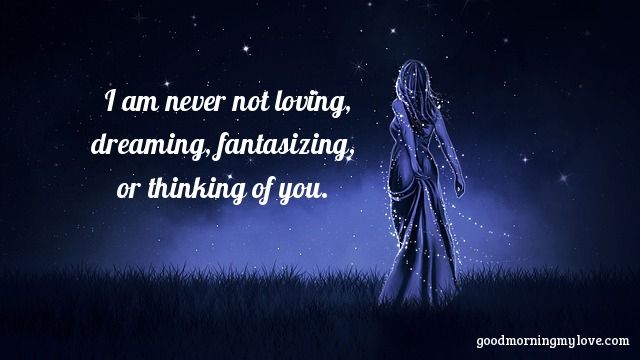 As long as the sun shines my love for you will never fade. I love you.
You are the love of my life and you light up my life like the sun lights up the whole world.
I cherish and adore you more than you ever know. I love you so much.
This sounds crazy but only you and your love can make everything seem right.
I love you to the moon and back, from your heart to your soul and from your head to your toe.
Do you think of me as much as I think of you? Do you love me as much as I love you?
I think I might be falling in love with you. I am not surprised, you are an amazing boyfriend after all.
Every minute I spend with you is a minute of bliss. I love you.
I Love My Boyfriend Quotes
Let one of these love quotes show the world how much you love him. Being in love is often indescribable so hopefully we can help you find just the perfect I love my boyfriend quotes.
I don't think my boyfriend knows how much I love and adore him. But I will spend my life showing him.
I wish there were words to express how much I love and adore my boyfriend. All I know is that he is a total a catch and I caught him!
Being with my boyfriend is the best feeling in the world. I just love to be with him.
My boyfriend is the type of guy I want to take home to meet my parents.
Have you heard that I have the most incredible boyfriend in all the world? I love him so much.
I love being with the man I love the most. My boyfriend and my best friend.
My boyfriend makes me feel loved and special. Yeah he's great and he is mine!
You are my baby, you are my man, you are my all, you are my everything. I love you!
I love my boyfriend like I love my chocolates, cupcakes and coffee.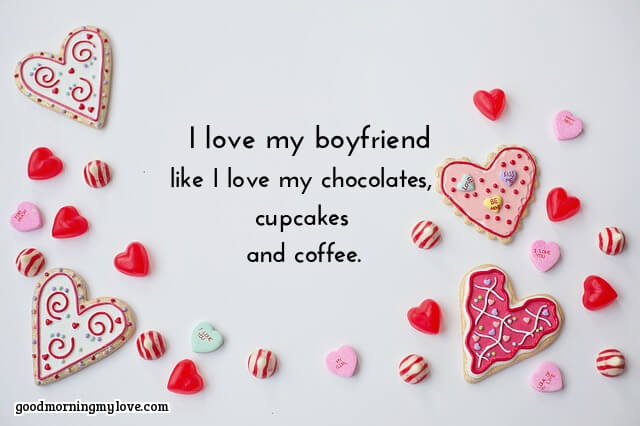 The world should know how wonderful you are as a boyfriend and that I am so lucky to be your girl.
Making you happy is what I do, I love you my boyfriend, I really truly do!
You know you're in love when you have a smile on you face when you think about your boyfriend.
Being apart drives me crazy. I miss him every single minute, that is why love him so much.
We are bound to each other by trust, love and friendship. My boyfriend is my world.
He is the light, the inspiration, the medicine and the love of my heart.
I have the best boyfriend, he is kind, funny and smart all at the same time. I love him so much!
Funny Boyfriend Quotes
One of the ways that we connect with our boyfriend is through humor and laughter. Below is our collection of funny boyfriend quotes made just for the couple who likes to laugh and enjoy being together. Tickle his heart through one of these silly and hilarious quotes for boyfriends.
Our love is hot, it shines so bright that I gotta wear sunscreen and shades.
Behind every great boyfriend is an super amazing, smoking hot girlfriend with the smarts and the looks.
You're crazy, I'm crazy, I love you, you love me, I get you, you get me, you're happy, I'm happy. It's a win-win situation!
Every minute I spend with you is so worth it… every penny and dime too.
I used to stalk you on social media because I really like you. Now, it's the other way around, I got you in the palm of my hand and I love it!
The best part of being your girlfriend is that I rarely take out the trash. Thank you!
Do you know how I know that you'll be my boyfriend? The horoscope told me!
I'd go to the ends of the world for you, but if you mess with me, that is the end of the world for you.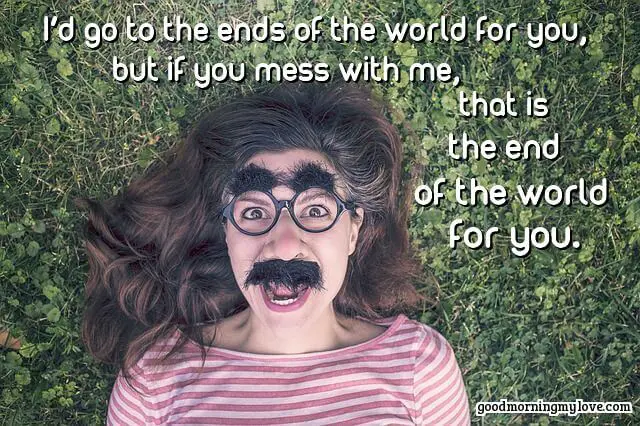 You are my one and only dream…and going to the Bahamas, a shopping spree and meeting Channing Tatum.
Catch of the day: you Breakfast special: you Lunch special: you and Dinner special is you.
Together let's make some great memories and love stories and in the future, good looking babies.
Boyfriend: a regular male companion with whom one has a romantic or sexual relationship, one who forgets to put down the toilet seat, one who snores in his sleep and one that I really love.
You are as sweet as honey and sugar and as loving and thoughtful as kind bars.
I am not waiting for a knight in shining armor. Mine has already arrived and he brought me pizza!
You might be a mama's boy but I love you and you bring me daily joy.
Marry me and do the dishes and the take out the trash for the rest of our lives and make me the happiest girl alive.
Romantic Quotes for Boyfriend
Roses are red, violets are blue, cakes are sweet but they're not as sweet as you. These sweet quotes for your boyfriend will surely attract either ants or your boyfriend. He might come crawling to you when you're this sweet.
I am happy just hanging out with you. I couldn't ask for more in a boyfriend.
Hold my hand, hold my heart and hold me forever. I love you.
My day is not complete without you texting me sweet and sexy words. I always look forward to receiving them.
Loving and romancing you is all I want to do. 24/7
Your love makes me a better person. I am changed for good because of you.
To me being with you is a little slice of heaven. It's sweet.
You've got the most beautiful eyes that I have ever seen and you've got the sweetest lips my lips have ever been.
Being in your arms is my happiest place. I don't want to be anywhere else.
Only you can make me feel this way. To feel loved, needed and wanted.
Being with you has its ups and downs but please know that you are still the best thing that happened to me and I wouldn't change a thing.
I am so proud to introduce you to my family. I am so lucky to have you as my boyfriend.
Your hugs and kisses makes my heart and soul sing and dance of happiness.
Sometimes I just close my eyes and thank God that you came to my life. I am so blessed.
I would do anything for you. I promise to be with you no matter what.
My nights, my days and my world are better since I found you.
We hope that you enjoyed our collection of love quotes for boyfriend. Having a boyfriend that you love is the greatest feeling. It makes life more meaningful and colorful in so many ways. Share and spread the love. Cheers!