Good Morning Love Letters & Messages
Are you looking for sweet and romantic good morning love letters and messages for the man or woman you love? It can be difficult to put emotions in to words, and of course we want to share our feelings and make our partner know and feel the love we have for them. It is with this in mind that we created this collection of good morning love messages for her or him to help you find the perfect words to express how you feel to your love. Help your love start the day off right, feeling deep within their heart how much you truly love them.
Looking instead for good morning messages for friends and family? Or some heartfelt and inspirational good morning blessings?
Fortunately, love is one of the most written about topics of all time and there are plenty of romantic morning messages and love letters out there and in this collection you will certainly find some that capture perfectly what you wish to say to your sweetheart. We have carefully selected the most heartfelt and sweet morning love letters and messages, guaranteed to melt the heart and touch the soul!
Here you will find:
Good Morning Love Text Messages
Good Morning Love Quotes (or check out love quotes for her and love quotes for him)
Good Morning Love Letters & Love Poems
It is our wish that here you find the perfect romantic and sweet morning words for him or her to express what is in your heart. In the morning, give the person you love good morning messages to start the day off right and full of love and romance!
Good Morning Love Text Messages
Here are some romantic and cute good morning text messages that you can use to help your beloved start their day off feeling loved and important. We hope you find the perfect good morning messages for your love.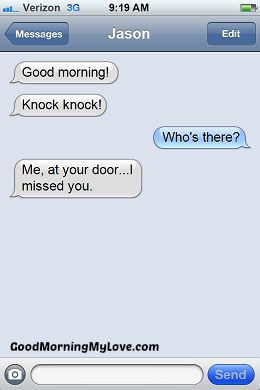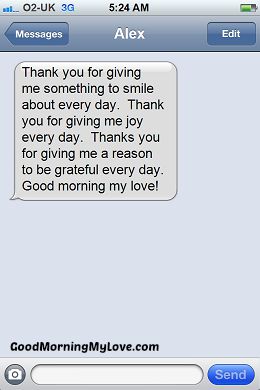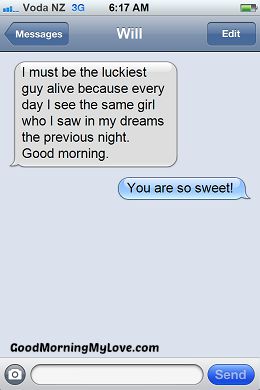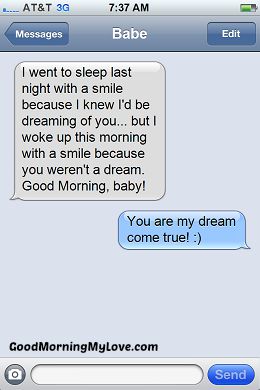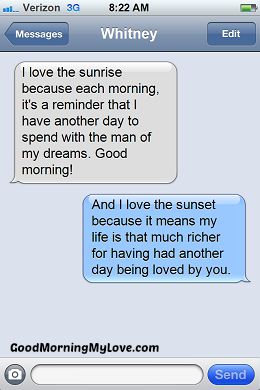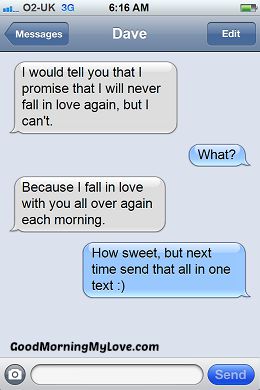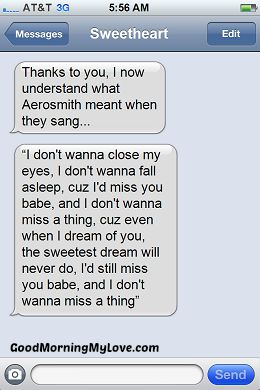 Looking for more good morning texts?
Good Morning Love Quotes
Here is a collection of good morning quotes about love which can help express how you feel deep in your heart and show them how much you care. Sometimes it can be hard to come up with the right words ourselves. If you find a quote that seems to touch you or put words to what you already feel, share these with your love!
My heart is full pride, full love and full of joy because of you.
You take my breath away every minute of every day.
I enjoy spending time with you my love.
Here in my arms is where you belong.
You're as wonderful and perfect as the day we first met.
In your arms is my favorite place to be.
You make my life fun and full of love.
I really admire you beauty and inner strength.
Do you know that you are my best friend, I don't know what I would do without you?
No matter how far we are apart, my heart and my soul it's all yours right from the start.
I'll love and honor you forever.
The colors of the rainbow pales to your beauty.
You are the sunshine and the apple of my eye.
Hey you, yes you. I love you and I'm crazy for you.
Come shine come rain I'll choose and love you again and again.
You inspire me to be a better human being. Thank you my love.
I love you, I love you, I love you I really do!
Just so you know, I will always love and be here for you.
Being with you is so much fun, I can't wait to cuddle up in bed with you.
I like you a lot… like I love you from the moon and back.
Loving you is an addiction. I'm addicted to your love.
The colors of the rainbow so pretty in the sky but you my love is still the apple of my eye.
You are my love, you are my joy, you are my treasure that I get to enjoy.
Love is not needing a snooze button on your alarm clock, because when it goes off for the first time in the morning, the thoughts of your loved one makes it impossible to fall back asleep.
Looking for more good morning quotes for her or good morning quotes for him?
Good Morning Love Letters & Poems
Here is a selection of morning love letters and poems which can help your love feel special and loved early in the morning upon waking. We hope you find the perfect good morning letter or are inspired by these to write your own touching and heartfelt morning time love letter.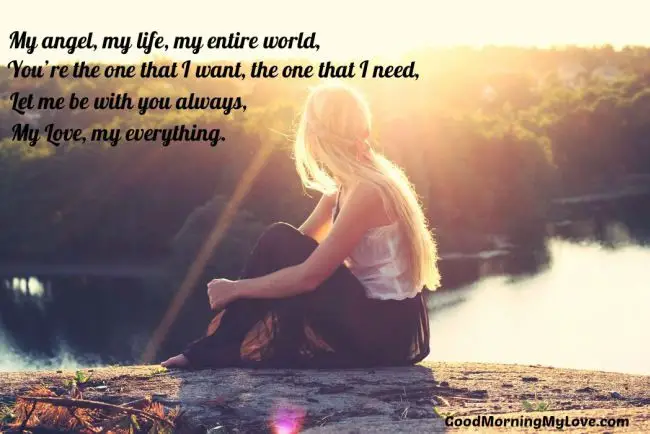 1)
Good morning my love
I missed you all night
And now that you've woken
Let's hold each other tight
2)
As your eyes open all I wish for you to know
Is that from this moment forward our love will always grow.
3)
Good morning to you,
I have waited all night
To tell you right now,
Being with you feels so right.
4)
Joy and love was elusive to me,
It seemed my dreams couldn't come true,
I thought love was just a fairy tale
Til the day I laid my eyes on you.

5)
Lying next to you in bed is a joy to me,
A feeling beyond words that I can say,
But seeing you wake up in the morning, my dear,
Is the most beautiful part of my day!
6)
You are my sun rise,
Your love is my great prize,
From morning till night,
I shall seek to hold you tight,
7)
The break of dawn and the sun rise,
Give me a glimpse of the beauty of your eyes,
And as you open them I wonder deeply,
If it's the sun or your eyes that's illuminating me.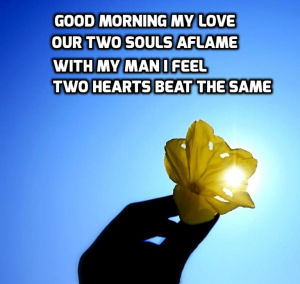 8)
Good morning sweetheart,
I missed you all night,
And now that you up,
Please let me hold you tight.
9)
Morning has come,
And I miss you it's true,
And though you're not near me,
I am full of love for you.
10)
When the morning stirs and you first look at me,
The words all fail me to describe what I see,
A soul so magical, a face so fine,
Is this now a dream? How could you be mine?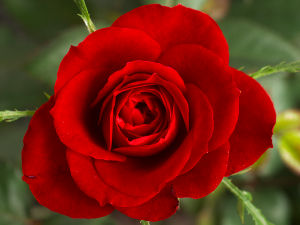 12) Good Morning My Dear – Anonymous (a romantic good morning letter for her)
My love, how I long for you to be with me,
And do all that I can just to make you see,
How you've transformed my life so magically,
And taught me how to set my soul free.
During the night I was unable to rest,
For without you, my dear, I am not at my best,
But now you have woken and brightened my day,
And everything again is going my way.
Good morning my dear.
13) Love – By Pablo Neruda (a very sweet good morning letter for him)
Of everything I have seen,
It's you I want to go on seeing:
Of everything I've touched,
It's your flesh I want to go on touching.
I love your orange laughter.
I am moved by the sight of you sleeping.
What am I to do, love, loved one?
I don't know how others love
Or how people loved in the past.
I live, watching you, loving you.
Being in love is my nature.
If you enjoyed these romantic and sweet good morning wishes, letters, poems and messages please share them and spread the love!
Love Notes for Her or Him
It is our wish that you and your beloved enjoyed these sweet and romantic love notes for her or him. Sending beautiful and cute love notes for her or him in the morning is a great way to help your partner to start their day off feeling great, overflowing with the emotion of love. Taking the time to write down our feelings and giving it to our loved ones is one of the best gifts that we can give them, because, unlike the spoken word, they can take their time savoring the feelings and can re-read the love notes over and over again. So the next time you need a good morning love letter for her or him, please come back and visit us.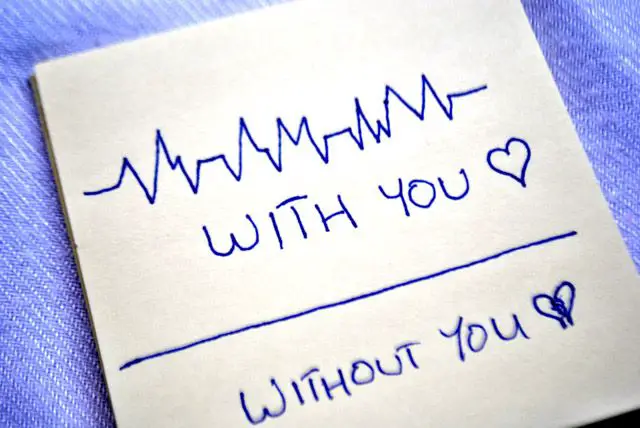 We truly hope you enjoyed these good morning love wishes, quotes, messages and poems. This collection was created so that you could use them to connect more deeply with your partners. We hope you found one you liked, or were inspired to write one of your own (the Pablo Neruda poem was my first good morning love letter to my wife). A close relationship is something which always needs to be nurtured and using these as good morning love texts, emails or even as good morning notes is a great way to keep the passion in a relationship and the keep your partner feeling loved and special. We absolutely love good morning messages which are romantic, sweet and inspirational. These good morning my love messages are for you to use, enjoy and share!
Are you looking for good morning poems for her or good morning poems for him?