Good Morning Blessings
Good morning! If you are looking for good morning blessings to send to your friends, family or loved ones on social media, text messages, or in a holiday card, look no further! We have carefully compiled this collection of morning blessings just for you. Heartfelt and meaningful good morning blessings are a fantastic way to give someone something beautiful to wake up to. A blessing is asking God, the universe or whatever you believe in for favor and protection, or to simply express gratitude and love. Be a blessing in someone else's life and grant them some of these wonderful good morning blessings. Good morning have a blessed day!
Below you will find:
Good morning blessings for any day (general)
Sunday morning blessings
Monday morning blessings
Tuesday morning blessings
Wednesday morning blessings
Thursday morning blessings
Friday morning blessings
Saturday morning blessings
Good Morning Blessings
May God's blessings flow upon you today. May he bless your home, guide you through tough times and keep you safe today and forever. Have a great morning.
Today may you feel joy and happiness and share it with people you meet. May it blossom to friendship, love and understanding. Enjoy your morning.
Rise and shine for the glory of the sun is awaiting to bring you joy and peace. May it bring nourishment to your soul. May it provide you with new ideas and new opportunities. Have a blessed morning!
Good morning! May your day be filled with love, joy and peace-of-mind.
May the Lord's love shine upon you today and everyday. May he also guide you and protect you from harm. Have a great morning.
Wishing you a morning that is filled with glory and positivity, a day full of bliss, love and surprises. May you have a mind free of worries and a heart that is free of sadness. Have a blessed and wonderful morning!
May your morning be blessed with immense joy and happiness. May it continue throughout the day and all your life and to those you love and care about.
Feel God's grace, love and glory this morning as you wake up to face the day. May your day bring smiles, laughter and happiness.
You are amazing! May your morning and the people around you be filled with grace, success, joy and peace.
Smile, for a blessed morning filled with joy is waiting just for you. May God hear all your prayers and dreams. Good morning!
The rainbows, flowers and butterflies are waiting for you. Start the day with good vibes and positivity. May this morning be as blessed as the next one. Good morning have a blessed day!
I pray for your comfort, protection and peace while you sleep and wake up with a morning filled with blessings. May God hear all your prayers and grant your wishes. Have a great morning!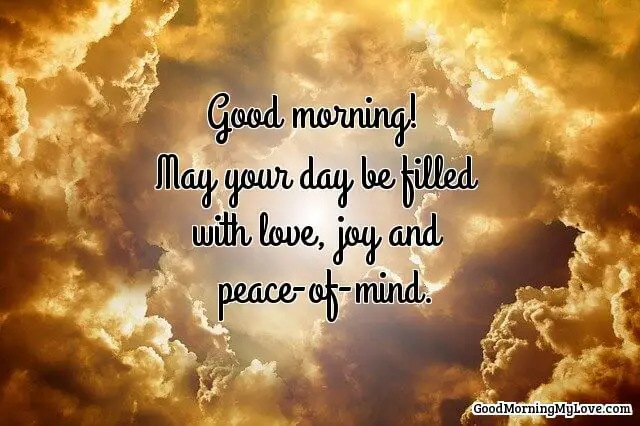 Sunday Morning Blessings
Sunday is a special and sacred day for many, so we hope you are able to find just the right good morning Sunday blessings here.
Today is a new day. Take it easy, relax and enjoy your Sunday. May it be filled with grace, happiness and peace of mind. Enjoy your morning!
May this Sunday you wake up healed, refreshed and renewed and may God continue to shower you with his grace. Good morning have a blessed Sunday!
I count you as a blessing so I wish you a Sunday morning that's overflowing with pure bliss. May your life progress to be showered with God's gift. Have a great Sunday morning!
May this Sunday morning be as colorful as the rainbow and magnificent as the sun. May the Lord put color and shine your soul today and always. Happy Sunday blessings.
Today may you feel hope, pleasure and blessings beyond measure. New chance and new beginnings may come your way. That God will show you the path to a life that is full of great surprises.
Good morning! May you be surrounded with laughter and kindness as you go through this Sunday and everyday.
Sunday good morning blessings to you! may today be full of love, joy and happiness.
Feeling romantic? Check out these good morning love quotes
Monday Morning Blessings
Mondays can be tough, so make sure to share some of these good morning Monday blessings with those who need a boost to the start of their week!
May you start your Monday morning with a joyful spirit, fresh vision and a peaceful heart. May God extend his hand to grace you throughout the day. Have a blessed Monday!
I hope you quit stressin' and start to count all your blessings. May all your prayers be heard and your wishes come true as God sends his grace unto you. Good Monday morning!
May you start your Monday with a smile on your face and celebration of life with God's grace and may you stay blessed and safe throughout the day. Good morning!
I take this opportunity to wish you a Monday morning that is full of positive words, thoughts and energy. May little things you find bring you joy and spark your soul. Good morning!
May you face this morning with a joyful and peaceful heart. Rain or shine just know that I am here for you no matter what and that God is always around you to keep you safe. Have a great Monday morning!
Good Monday morning! May your day be triumphant and jubilant whatever goals you have. Big or small know that it is the journey not the destination. I know you can do it.
Tuesday Morning Blessings
Here is a collection of some good morning Tuesday blessings to help those you care about start their Tuesday off right, including Tuesday blessings images.
Today is a new adventure, may it be as successful as you want them to be. May the Lord guide you along and direct your steps this Tuesday Morning. Have faith that everything will be okay.
You are special to me so I asked God to bless your heart and your home today and everyday. Happy blessed Tuesday!
May the grace of a new day emanate through your smile, favorable through your hands and shine through your heart and soul. May it be filled with lots of laughter and happy thoughts. Happy Tuesday blessings!
Feel the warmth of the sun, hear the birds singing and enjoy the beautiful flowers. May this Tuesday morning be as wonderful as you are and may God keep you safe.
Look forward to a new day, new opportunity and new you. May God guide you with his grace and love this Tuesday morning and throughout your life. Enjoy the beauty and miracles that the day brings.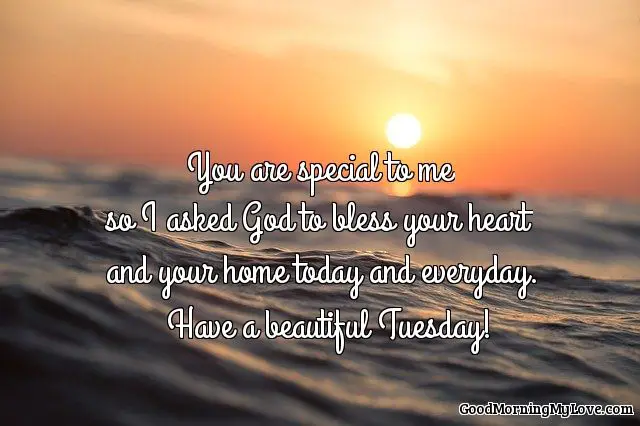 Wednesday Morning Blessings
Wednesday is hump day, so help those you care about get over the hump with some good morning Wednesday blessings.
Rejoice! For this morning is a new start of a healthy and blissful day. May you wake up this morning feeling refreshed, renewed and rejuvenated. Have a wonderful Wednesday!
Rest and relax for the night and may you wake up this Wednesday morning happy and bright.
May the Lord keep blessing you over and over again. Keep you safe from harm. Keep you free from illness. Keep you free from worries and keep your heart with gladness. Have a blessed Wednesday!
Good Wednesday morning to you, may you have a lively, superb, meaningful and fantastic day! I pray that you will be safe from harm when you wake up in the morning and throughout your day.
I've been safe and I've been graced and I wish you the same way this Wednesday morning. I ask God to guide you in your difficult times and watch you all the time. For you are important to me and may you be blessed as you should be.
Don't give up and don't give in, for everything will be alright. I pray to God to give you a life full of joy, a mind full of peace and a body full of nourishment. You are important to me and I wish you all the best in life. Have blessed Wednesday!
Thursday Morning Blessings
Thursday is an important day for some cultures, so we hope these help you share the perfect good morning Thursday blessings.
There's always a rainbow after the rain and I pray to God to bless you and take away your pain. That he will heal your scar, heal your sorrows and give you the strength and the will to conquer your fears. Have a blessed and wonderful Thursday.
May today the beginning of many beautiful things to come your way. Enjoy your Thursday!
Good Thursday morning! May God grace you with peace and joy in your life and the people around you. Today as you wake up, I hope that he will lead you to a day full of positive and optimistic thoughts and a joyful heart.
Beautiful morning and a magical day, may God give this to you when you awake. May he guide you, uphold you, give you wisdom and watch over you. Have a blessed Thursday!
Good morning sunshine! May you start your day with a joyful heart, refreshing views, peace of mind and a face full of smiles. May your Thursday be as amazing as you.
May God grace you with great success and abundance in life. You are such an inspiration and I hope that you know how important you are. It is such a pleasure to know such a great person like you. Have a blessed Thursday.
I hope your blessings will multiply, your courage will get stronger, your mind is put to rest, your heart will be fuller and your smiles get bigger. May God watch you today and for the rest of your life. Thursday good morning blessings to you!
Friday Morning Blessings
Good ol' Friday! The home-stretch of the week. Help someone end the week with some heartfelt good morning Friday blessings.
May God's hands guide you to your dark days and give you enough strength to get you to the next step. May he comfort you and guide you to happiness and peace. Have a blessed Friday.
Roses are red, violets are blue, may you have a blessed Friday and all the way through!
May your heart overflow with gladness, love, laughter and grace. May your Friday be marked by the light of favor and abundance shining in your life.
I am grateful for you. May your problems be washed away by bliss, affection, high spirits and harmony. Have a blessed Friday!
May this Friday you see the invisible, feel the intangible, accomplish the impossible and gain a miracle. May the lord grace you with energy, persistence and wisdom to achieve all your goals and dreams. Friday good morning blessings to you and yours.
I hope and pray that God will continue to bless you with great success, good health and peace of mind. May your happy days be many and worries and woes are few. Oh God hear my prayers for this special person that is you.
Saturday Morning Blessings
Saturday is a sacred and important day for many, not to mention a great all-around day! Delight in these good morning Saturday blessings for those who are important to you.
A Saturday blessing from me to you, may the goodness of the Lord follow you wherever you go and may you have great success in whatever you do. Have a blessed day!
Don't worry be happy for today is a new day. May your Saturday be as fabulous and extraordinary as you are. Every problem has a solution and every life has a miracle. Have a blessed day.
May today you wake up with the sweetest smile, happier heart, brighter day and a peaceful mind. Celebrate and treasure the life you are given and prosper in every challenge you may have. Have a blessed Saturday morning!
May your strength be restored in times of trials and may you see beauty in times of sorrow. May God grace you with comfort of his mercy and the strength of his presence. Have a blessed day full of joy and happiness.
Roses are red, violets are blue, this Saturday, may God bless you. I just want you to know that I am thinking of you. I hope you have a great day ahead and may your blessings outnumber the stars at night and may troubles avoid you because everything will be alright.
May your problems be less and laughter be more and nothing but blessings and happiness come knocking at your door. Have a blessed Saturday.
We hope that you found just the right good morning blessings images and blessed morning quotes perfect for someone you care about. Enjoy your good morning and may you enjoy the beauty of a brand new day. Share these good morning blessings quotes and messages with those who are important to you.