Good Night Texts For Him
Show him how much he means to you with our collection of cute and sweet good night texts for him. What a great way for both of you to fall asleep thinking about each other by sending a romantic good night text for him. Make sure that you are the last thing on his mind as he drifts off into his dreams. Communication is a huge part in a relationship so read over the good night text messages for him and choose the ones that best express what you want to say.
You may also enjoy:
And why not send him one a night so that he sees you every time in his dreams?
Good Night Text for Him
1) The only thing that could turn this good night into an amazing night is if you were here
next to me.
2) Wish you were here with me to gaze at the moonlight, and into my eyes.
3) I can't sleep because whenever I think of you my heart races at a million miles an hour.
4) Goodnight my sweet prince. Good night love.
5) My favorite time of the day is bedtime, but it would be better with you.
6) Waking up with you by my side would really make a good morning.
7) Why would I go to sleep when I can stay up and talk to you all night?
8) You're the only person that I want to be with right now.
9) The sooner that I go to sleep the sooner I'll be awake talking to you again.
10) Goodnight sweetheart, you're the only man that I need to get me through life.
11) The days that I spend with you are the days that I live for. Have a good night.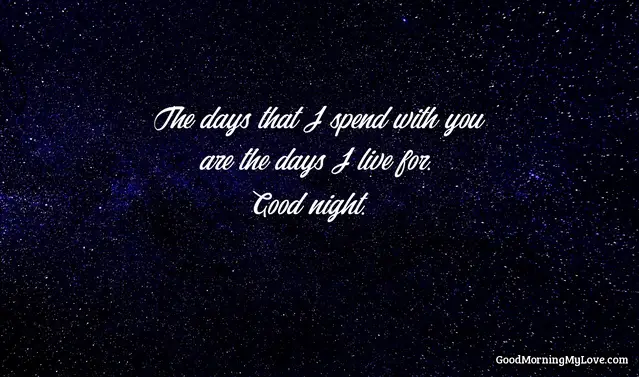 12) Dream of me because I'll be dreaming of you. Good night my love.
13) I was about to fall asleep but then I remembered how much I love you.
14) Day in day out, you make me want to scream and shout.
15) Wish you were here with me sweetie, I miss you.
16) Having you in my life is like winning the emotional lottery, so lucky to have met you.
17) You are the reason I wake up each morning, work all day, and you're the reason that I'm always happy. I love you so much.
18) After a busy day all I want to do is cuddle up next to you and relax.
19) Love you so much, good night.
20) My favorite thing about going to bed at night is that after texting you, I get to be with
you in my dreams. G'night sweetie.
21) Instead of texting you goodnight I wish you were here so that I could say it to your face.
22) If we were star gazing I wouldn't know the difference between the stars and your eyes.
23) Whenever I have a bad day all I have to do is think of you and my day brightens up
instantly.
24) You are perfect in every single way, I wouldn't change a thing about you.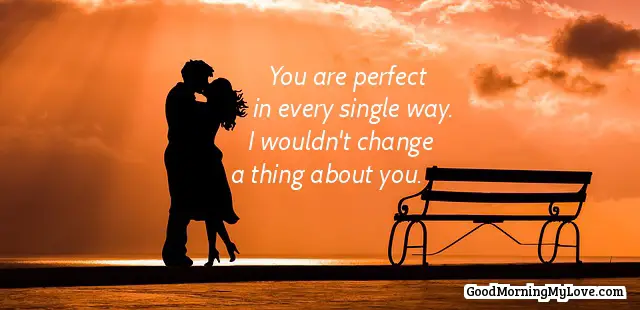 25) My life wouldn't be the same without you, thank you for being such a big part of it.
26) Spent all day reading a dictionary and I still can't find the words to describe how much I
love you.
27) I'm so grateful that we met, I don't know what I'd do without you, goodnight beautiful.
28) Nobody makes me smile like you do and you completely understand me, I love you for being
here for me.
29) I'll never forget the first time we met, it was the best moment of my life.
30) I hope you know how great you are, I wouldn't trade you for anyone else. Miss you,
goodnight.
31) You are my world, my life and my everything.
We hope you enjoyed and will share our list of our sweet, cute and romantic good night love texts for him. Arguably, sending sweet and romantic nighttime texts will leave a lasting impression on those we love. Near or far, we got you covered. Sending a good night text for him long distance is also a great way to let him feel loved and remembered even though he may not be by your side tonight. Good night, sweet dreams and enjoy being in love.
Don't forget to come back and find a new good night text for him every night so he is always thinking about you as he falls asleep!
And make sure you are also the first thing he thinks about in the morning with these good morning messages for him.