Inspirational Good Morning Messages & Quotes
Are you looking for inspiration for your morning? Or perhaps to share with someone you care about? Here you will find inspirational good morning messages that will help start the day off on the right foot. Here you will find:
1) Inspirational Good Morning Text Messages
2) Motivational and Inspirational Good Morning Quotes
3) 10 Awesome Motivational Affirmations
4) Inspirational Good Morning Poems
Few things are more important than how you feel at the beginning of the day. And our thoughts are the deciding factor in how we feel in the morning. Creating positive, empowering and good morning thoughts helps to keep you calm, peaceful and happy throughout the day. Reading and sharing good morning inspirational messages is like a booster shot of positivity and motivation for your mind.
And if you wish to help someone you care about to have a good morning inspirational messages can be one of the greatest gifts you can give them.
We hope these inspirational good morning messages help you and your loved ones to tackle the day, fill it with joy and live life with zest and passion! May this page bring you all the inspiration you ever need!
You may also enjoy Funny Good Morning Messages and Good Morning My Love Images & Messages.
Inspirational Good Morning Messages
Here is a collection of inspirational good morning text messages which you can use to help motivate those you care about or just help you to start your day off right!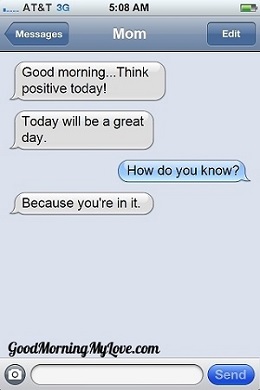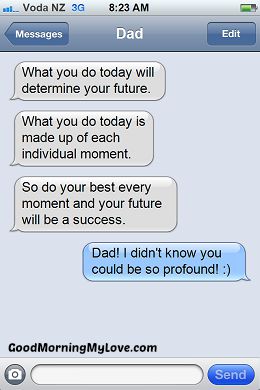 Looking for even more good morning sms messages?
Inspirational Good Morning Quotes
This collection of inspirational good morning quotes is full of motivational sayings which will help you feel powerful, calm and ready to take action early in the morning. If you wake up lacking motivation or are in need of morning inspiration, take some of these good morning inspirational quotes and put them up on the wall, to serve as your computer or cell phone wallpaper or on sticky notes in places you will often see them. In addition to quotes, below there are also some good morning images with inspirational quotes that you can use. So, if you are in need of some good morning motivation, we hope these will help! Or you may be interested in learning how to become a life coach and have a huge impact on one person at a time.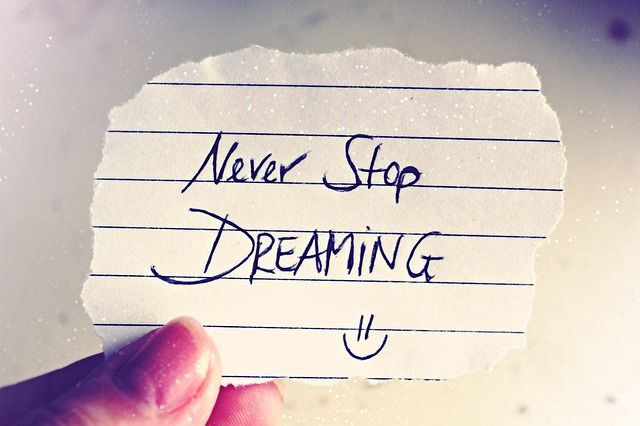 1) "You've got to get up every morning with determination if you're going to go to bed with satisfaction."
— George Lorimer
2) "Life is 10% what happens to me and 90% of how I react to it."
— Charles Swindoll
3) "How am I going to live today in order to create the tomorrow I'm committed to?"
— Anthony Robbins
4) Great attitude is like a perfect cup of coffee – don't start you day without it."
— Anonymous
5) "Morning is an important time of day, because how you spend your morning can often tell you what kind of day you are going to have."
— Lemony Snicket
6) "No matter how bad things are, you can at least be happy that you woke up this morning."
— D. L Hughley
7) "I am not a product of my circumstances. I am a product of my decisions."
— Stephen Covey
8) "Life is a daring adventure or nothing at all."
— Helen Keller
9) "The world is new to us every morning – this is God's gift and every man should believe he is reborn each day."
— Baal Shem Tov
10) "I'd like my mornings better if my mornings started with you."
— Anonymous
11) "Dream no small dreams for they have no power to move the hearts."
— J.W. Goethe
12) "Prayer is the key of the morning and the bolt of the evening."
— Mahatma Gandhi
13) "Life isn't about finding yourself. Life is about creating yourself."
— George Bernard Shaw
14) "Persistence: fall down seven times, stand up eight."
— Japanese Proverb
15) "Every morning I get up and look through the Forbes list of the richest people in America. If I'm not there, I go to work."
— Roy Orben
16) "First say to yourself what you would be; and then do what you have to do."
— Epictetus
17) "Think of yourself on the threshold of success. A whole, clear, glorious life lies before you. Achieve! Achieve!"
— Andrew Carnegie
18) "Once you replace negative thoughts with positive ones, you'll start having positive results."
— Willie Nelson
19) "I quit being afraid when my first venture failed and the sky didn't fall down."
— Allen H. Neuharth
20) "Only those who risk going too far can possibly find out how far one can go."
— T.S. Eliot
21) "Life always offers you a second chance, it's called tomorrow."
— Nicolas Sparks
22) "Self-control is strength. Right thought is mastery. Calmness is power. "
— James Allen
23) "To be yourself in a world that is constantly trying to make you something else is the greatest accomplishment."
— Ralph Waldo Emerson
24) "Be yourself; everyone else is already taken."
— Oscar Wilde
25) "You only live once, but if you do it right, once is enough."
— Mae West
26) "Life engenders life. Energy creates energy. It is by spending oneself that one becomes rich."
— Sarah Bernhardt
27) "In three words I can sum up everything I've learned about life: it goes on."
— Robert Frost
28) "Live as if you were to die tomorrow. Learn as if you were to live forever."
— Mahatma Gandhi
29) "You can never cross the ocean unless you have the courage to lose sight of the shore."
— Christopher Columbus
30) "Morning is wonderful. Its only drawback is that it comes at such an inconvenient time of day."
— Glen Cook
31) "The sun is new each day."
— Heraclitus
32) "It is never too late to be what you might have been."
— George Eliot
33) "I wake up some mornings and sit and have my coffee and look out at my beautiful garden, and I go, 'Remember how good this is. Because you can lose it.'"
— Jim Carrey
34) "Waking up this morning, I smile. 24 brand new hours are before me. I vow to live fully in each moment."
— Thich Nhat Hanh
35) "An early-morning walk is a blessing for the whole day."
— Henry David Thoreau
36) "The purpose of life is not to be happy. It is to be useful, to be honorable, to be compassionate, to have it make some difference that you have lived and lived well."
— Ralph Waldo Emerson
37) "I used to love night best but the older I get the more treasures and hope and joy I find in mornings."
— Terri Guillemets
38) "Every morning you have two choices- continue to sleep with dreams or wake up and chase your dreams. The choice is yours!"
— Anonymous
39) "Be willing to be a beginner every single morning."
— Meister Eckhart
40) "If you think you are too small to make a difference, try sleeping with a mosquito."
— The Dalai Lama XIV
41) "You must be the change you wish to see in the world."
— Mahatma Gandhi
42) "No one can make you feel inferior without your consent."
— Eleanor Roosevelt
43) "If you do what you've always done, you'll get what you've always gotten."
— Anthony Robbins
44) "Whatever you are, be a good one."
— Abraham Lincoln
45) "I have always been delighted at the prospect of a new day, a fresh try, one more start, with perhaps a bit of magic waiting somewhere behind the morning."
— B. Priestley
46) "Don't judge each day by the harvest you reap but by the seeds that you plant."
— Robert Louis Stevenson
47) "I get up every morning and it's going to be a great day. You never know when it's going to be over so I refuse to have a bad day."
— Paul Henderson
48) "What do we live for, if it is not to make life less difficult for each other?"
— George Eliot
49) "There is no path to happiness: happiness is the path."
— The Buddha
50) "You never fail until you stop trying."
— Albert Einstein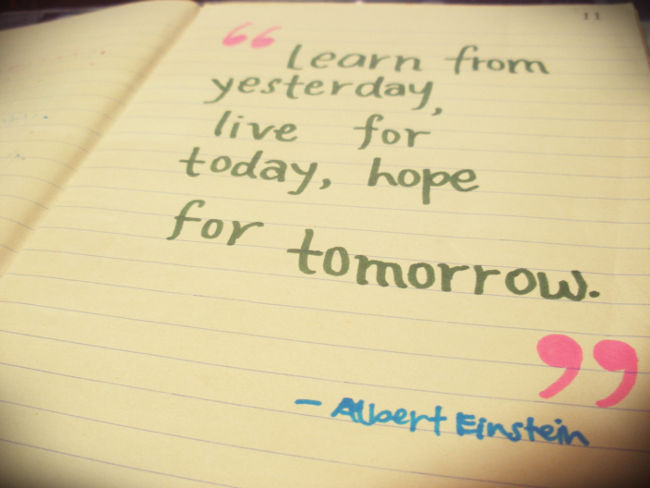 10 Awesome Good Morning Affirmation Quotes
Affirmations, repeated over and over, can help change how we feel. We have collected here some of the best good morning inspirational messages to use as affirmations to start your day. You can also send these to friends as motivational good morning messages.
I can be what I will to be.
All that I am is a result of my thoughts. And I am the master of my thoughts.
The wealth of the universe flows to me in avalanches of abundance.
Every day in every way, I am better and better.
Thank you for everything, I have no complaints whatsoever.
Things have a way of working themselves out.
Happiness is a choice and today I will choose happiness
I am on the threshold of success. A glorious future begins from today!
I am loved, I am loving and all is right with the world.
My heart, soul and body are healthy, strong and vibrant.
Inspirational Good Morning Poems
Poems can sometimes be the best good morning inspirational messages. Poetry is able to express feelings and evoke emotions in a way that everyday words often fail to do. We hope these poems help you to share touching and sweet inspirational good morning messages. Enjoy these yourself or share with those you care about. You might also consider discovering how to become a therapist, so you can help inspire your patients to lead better, more fulfilled lives.
1)
It is the little things that make life rich,
Little acts of kindness,
A small smile that shines like the sun,
Small favors gladly done,
Little compliments that spread good cheer,
Tiny actions that help rid the world of fear,
These are the things, though quite small,
That truly mean the most of all.
Good morning!
2)
Good morning dear,
I just want to say,
I love you so much,
And have a great day!
3)
Thank you for everything,
I have no regret whatsoever,
I will live today so grateful,
And in gratitude to you forever.
4)
Where would I be without a friend like you,
So kind and loyal, like you there are few,
Thank you for the joy to me you bring,
I just want to send you a great morning!
5)
Don't let stress erode your mind into rust,
Let the problems of the past wither and bite the dust,
Don't allow fear to shake your equilibrium,
Each day is a new chance to make your life awesome.
Good morning!
Check out our Good Morning Wallpaper! And even more good morning thoughts and good morning quotes to help start the day.