Good Morning Love SMS
Are you looking for romantic good morning sms love text messages? If so, your loved one is lucky to have you. 🙂 Here you will find good morning text messages that will show your partner how much you care.
What a better way to start off the day than by sending your partner a good morning love sms message? It can be tough to get going in the morning and to help your beloved become energized by the perfect love text message by your love is a great gift.
I love good morning sms messages because, if my partner and I happen to be apart that morning, I can still make sure my partner feels my love. By sending a good morning sms to my love, I help to start their day off with feelings of love, connection and romance. What could be better?
You may also be interested in our larger collection of good morning sms text messages.
We have carefully selected these romantic good morning love sms for her or him to help you capture what is in your heart and communicate it to the one you love. It is our wish that you both start each day off full of abiding and intense love!
Good Morning Love SMS
Here is a collection of good morning sms in love messages that you can use to share with your beloved. You may also enjoy our huge collection of 108 romantic love quotes for her.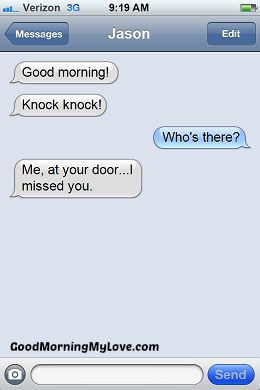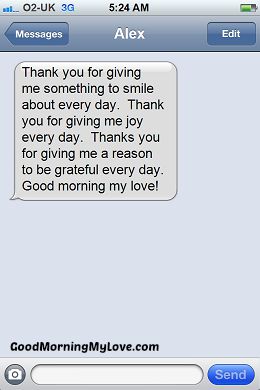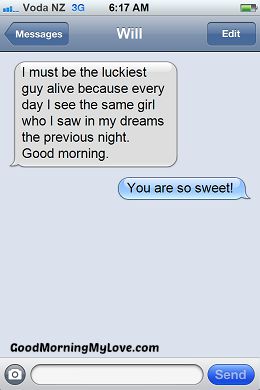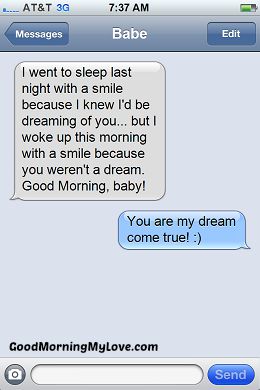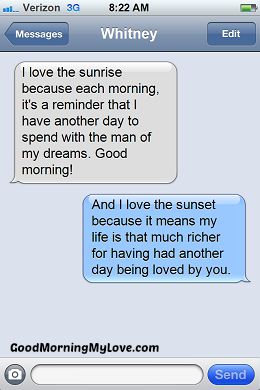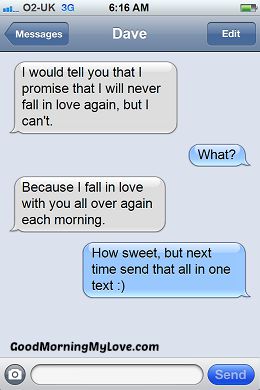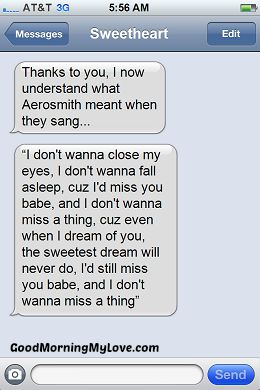 More Good Morning Romantic SMS Messages
Here are even more good morning my love sms messages to touch their heart and make their day start out feeling how deeply you care for them. Send them the perfect love morning sms!
There is nothing I would rather do than to kiss you good morning and wrap my arms around you right now. The morning isn't complete if you aren't in it, my love.
Were you a coffee bean in your past life? You must have been because I just can't start my day without you. Good morning!
You are the light of my life, the music in my heart and the first thought of my day. Good morning dear.
If there was one thing I could do right now, it would be to kiss you on the forehead, whisper "I love you" in your ear and thank the universe that you are mine. Good morning beautiful.
Every sunrise gives me a new day to love you! Good morning my angel. I hope you have a terrific day!
Being in love with you makes every morning worth getting up for, you are my motivation… Good morning my love!
Every day in my life is perfect because it begins with wishing you good morning. Have an amazing day honey.
Here is a simple good morning message to wish you a bright and beautiful day. Keep smiling and enjoy this virtual good morning kiss!
I am sending you lots of hugs and kisses wrapped in the warmth of my love to tell you good morning and have a wonderful day.
The first thing I do each morning before I open my eyes is see you in my mind. That makes me excited to wake up because you are my reason to live. I love you.
I am jealous of all the people who have had the opportunity to hug you because, for a moment, they held my whole world in their arms. Good morning my love!
Do you know how good it feels to wake up every day and know that you are mine and I am yours? You are the source of my joy. Good morning sweetheart!
We hope you enjoyed these good morning sms for lovers. Looking for more Good Morning Love Messages or even more Good Morning SMS?