Good Morning Poems for Her
You want her heart to melt at the sound of your poetic words. You want say good morning to her in a way that is unique and shows her how you feel. However, it can be difficult to find the right words. Here you will find romantic good morning poems for her which will help you to communicate what you feel inside. Love poems for her can be some of the most romantic messages for her.
Check out our huge collection of 108 Romantic Love Quotes for Her. Looking instead for non-romantic good morning poems for friends and family?
Women adore poetry and love a man who can recite it and use it to touch their innermost desires. Love is an emotion as ancient as time and love poems have been around for centuries, so there is definitely a good morning poem that will perfectly capture what you wish to say to your girlfriend or wife.
For a woman, poems are romance and beauty, and to give her a truly good morning beautiful poems are a great way to fill the start of her day with love for you! Each of these good morning love poems for her have been carefully chosen as ones which are guaranteed to melt her heart.
Whether you're looking for poems to make her feel special, poems to make her smile or just want to find a poetic way to say "good morning love of my life", you'll find the right words here.
These good morning poems for her are grouped into short, medium and long. Those without an author's name are anonymous.
Short Good Morning Romantic Poems for Her
1)
If I could have all the time in the world,
I know just what I'd do,
I'd spend all my time,
With your love so sublime,
Just being here with you.
2)
Good morning my love,
All night did I wait,
To tell you this moment,
You are my destiny, my fate.
3)
I never knew true happiness,
I thought dreams wouldn't come true,
I couldn't really believe in love,
Until the day I met you.
Check out these girlfriend quotes.
4)
Watching you sleep you look so peaceful
The joy I feel is beyond words I can say
Good morning my love my sweet angel
Thank you for waking and making my day!
5)
If tomorrow my life were over,
With many things yet to do,
It wouldn't matter one bit,
Because, my love, I had you.
6)
With you I wish to see sun rise,
For in the light I see your eyes,
And from deep within from you to me,
It is your heart and your soul that sets me free.
7)
Good morning dear,
The new day is here,
And all that I wish for,
Is to draw you near.
8)
When you open your eyes and look at me
I cannot begin to describe what I see
A heart so lovely, a beauty so fine
It is like a dream, that you are mine.
9)
This morning is lovely, but not as much as you,
My dreams are gone, but you're my dream come true.
Medium Length Good Morning Love Poems for Her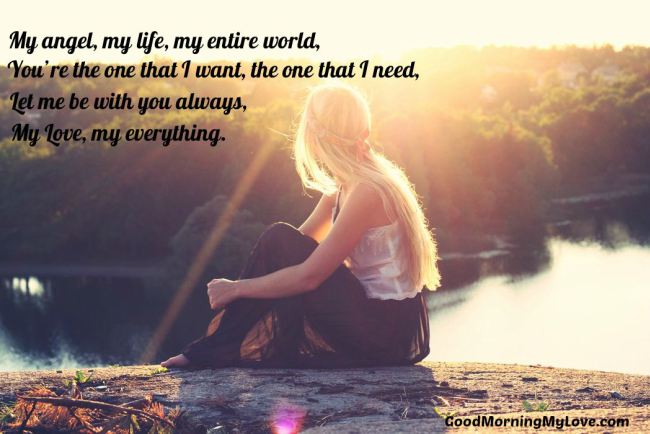 My Breathtaking Love
When I opened my eyes and saw you here,
My arms could not help but draw you near,
I sigh in wonder and stare in awe,
In my dreams, I know, it was you that I saw,
Your beauty ignites me, my angel from above,
Good morning my dear, my breathtaking love.
I Miss You This Morning
I miss you this morning,
I missed you yesterday,
Watching the sun shine,
Here is what I have to say,
For you I wish an awesome today,
Keep smiling and have an excellent day,
Good morning!
Good Morning My Dear
My girl, how I wish you were here with me,
So that I could show you and you could see,
All the love and joy you give to me,
My girl, how I wish I was next to you,
So my heart could be refreshed anew,
For it is you I want and you I need,
Thanks to you my heart is freed,
On this lovely morning, though you're not here,
I want to wish you a day full of cheer .
Good morning my dear.
A New Day, My Love
Wake up from your dreams you sleepy eye,
Shining down upon is a big bright sky,
The sun is smiling down on you,
Feel the freshness of the morning dew,
My sweetheart, I just want to say,
That I love and miss you so much today,
Good morning to you!
Good morning love of my life!
Good Morning For Today
As I sip my cup of coffee,
I remember you my dear,
And I want to be with you,
I want you to be near,
In my life in every way,
This is a new day,
So, good morning for today!
Longing for Your Touch
A warm hug for my girl to be,
In the evenings and the mornings,
When I close my eyes it's you I see,
Never imagined I'd love so much,
Simply longing for your hug and touch,
I miss you so much,
Good morning my dear,
Fill your day with smile and cheer.
Good Morning Kiss
The clear blue sky and sun-kissed air,
The morning dewdops so precious and fair,
I want to hug you tight and kiss,
And stay in that moment so endless,
My man, seeing you wake next to me,
I am full of joy and gladness you see,
Right now all I feel is my heart race,
As I long for nothing but your embrace,
While sleeping it is you I miss
And now it's time for our good monrning kiss.
In Awe Of You
When I wake and open my eyes to see
Such a beauty as you lying next to me
As the window displays the morning dew,
I lie and gaze in awe of you,
How grateful I am, my luck is so grand,
That I am the one who can hold your tender hand,
It is so magical to have you through the night,
This moment you have made my morning so bright.
Good morning my love.
I Cannot Wait
The anticipation is killing me,
I cannot wait to come and see,
The beautiful girl who I call my girlfriend,
The girl who I love to no end,
With all my heart and all of my soul,
Thank you for making my life become whole,
Love – By Pablo Neruda
Of everything I have seen,
It's you I want to go on seeing:
Of everything I've touched,
It's your flesh I want to go on touching.
I love your orange laughter.
I am moved by the sight of you sleeping.
What am I to do, love, loved one?
I don't know how others love
Or how people loved in the past.
I live, watching you, loving you.
Being in love is my nature.
Long Good Morning Romantic Poems for Her
Good Morning My Love – By Ravi Sathasivan
When the morning sun rays wake up me from my sleep
When the fresh crisp air blow through the windows
When those birds on the tree chirps and welcome a new day
When those flowers on the trees have turned their face high
When the church bells call for prayers in the morning
Then I wake up and think of my last night dream with you
and rush to my telephone to say you 'Good Morning My Love'
My days never ever start without talking to you in the morning
nor my life never sail smoothly through out the day
Your sweet words being to light up my day my love
and your morning kisses will make my heart sunshine ever
Having you in my life will bring me the mountain of happiness
and the love you shower on me is like a silver brightness
I can not explain the love I have for you
and my days are not enough to love you either
My love is as strong as it is true from morning to night
Let me tell you again 'Good Morning My Love '
and thank you for you being attached to me love
Sonnet 145 – by William Shakespeare
Those lips that Love's own hand did make
Breathed forth the sound that said "I hate"
To me that languished for her sake;
But when she saw my woeful state,
Straight in her heart did mercy come,
Chiding that tongue that ever sweet
Was used in giving gentle doom,
And taught it thus anew to greet:
"I hate" she altered with an end,
That followed it as gentle day
Doth follow night, who like a fiend
From heaven to hell is flown away.
"I hate" from hate away she threw,
And saved my life, saying "not you."
When I Wake Up Every Morning – by Charles Wiles
When I wake up every morning
I always watch you for a while
Then I kiss you very lightly,
Watch you lips turn to a smile.
Then you ask me what the time is
And I whisper in your ear
That the hour hardly matters
When you're lying warm and near.
Your smile grows slightly wider,
But you turn your face away,
Hide your head under the pillow,
Try to cheat the break of day.
Your hair wisps round about you,
Flows like water to your hips,
But your neck soon bare before me
Feels the pressure of my lips.
Then I touch you very lightly,
Run my fingers down your spine,
And your body gently waking
Turns till eyes gaze into mine.
And in that very moment,
As your mouth seeks to entice,
When I wake up every morning,
I am lost in paradise.
I Will Be Here – Steven Curtis Chapman
If in the morning when you wake,
If the sun does not appear,
I will be here.
If in the dark we lose sight of love,
Hold my hand and have no fear,
I will be here.
I will be here,
When you feel like being quiet,
When you need to speak your mind I will listen.
Through the winning, losing, and trying we'll be together,
And I will be here.
If in the morning when you wake,
If the future is unclear,
I will be here.
As sure as seasons were made for change,
Our lifetimes were made for years,
I will be here.
A Red, Red Rose – by Robert Burns
O my Luve's like a red, red rose
That's newly sprung in June;
O my Luve's like the melodie
That's sweetly played in tune.
As fair art thou, my bonnie lass,
So deep in luve am I;
And I will luve thee still, my dear,
Till a' the seas gang dry:
Till a' the seas gang dry, my dear,
And the rocks melt wi' the sun;
I will luve thee still, my dear,
While the sands o' life shall run.
How Do I Love Thee? Let Me Count the Ways – by Elizabeth Barrett Browning
How do I love thee? Let me count the ways.
I love thee to the depth and breadth and height
My soul can reach, when feeling out of sight
For the ends of Being and ideal Grace.
I love thee to the level of everyday's
Most quiet need, by sun and candle-light.
I love thee freely, as men strive for Right;
I love thee purely, as they turn from Praise.
I love thee with the passion put to use
In my old griefs, and with my childhood's faith.
I love thee with a love I seemed to lose
With my lost saints,—I love thee with the breath,
Smiles, tears, of all my life!—and, if God choose,
I shall but love thee better after death.
I Am Here to Stay
I love you and I am here to stay,
That is what I will always say,
Kiss me and I can struggle breathe,
Sending shivers into my knees,
When distance draws us far apart,
Passion flows over in my heart,
Love divine and so very true,
Knowing that you feel it too,
I dreamt about you during the night,
Lying there and holding you tight,
Interlacing your fingers within mine,
As if our hands were made to rhyme,
I love you I need you I'm here to stay
I will follow you always no matter the way.
Always On My Mind
If you fall I will catch you,
If you cry I will hold you,
If I breathe I will love you,
You are always on my mind,
Occupying my thoughts from day to night,
You are the sun of my mornings,
And the moon of my nights,
You are the stars shining on me,
The angels watching over me,
You are the love of my life,
And every night before bed,
I see you when I close my eyes,
And when sleep come for me,
You are waiting there in my dreams.
I don't think you will ever leave me mind,
And for me that is just fine.
Clenched Soul – By Pablo Neruda
We have lost even this twilight.
No one saw us this evening hand in hand
while the blue night dropped on the world.
I have seen from my window
the fiesta of sunset in the distant mountain tops.
Sometimes a piece of sun
burned like a coin in my hand.
I remembered you with my soul clenched
in that sadness of mine that you know.
Where were you then?
Who else was there?
Saying what?
Why will the whole of love come on me suddenly
when I am sad and feel you are far away?
The book fell that always closed at twilight
and my blue sweater rolled like a hurt dog at my feet.
Always, always you recede through the evenings
toward the twilight erasing statues.
Good Morning My Love – by Craig Moon
Good morning, Good morning my Love,
I know I just woke up,
But I want to tell you something,
as I drink my morning cup.
I really love YOU
I do? I do? I do!
And As I dream of day your with me,
I don't know what I'd do.
So this is my way of showing you,
I believe our dreams will come true.
As I wrote this little poem to say,
I love YOU I love YOU I love YOU.
I do, I do, I do!
And may the smile that you get,
when you feel the warmth it brings,
stay with you all day,
As I know we will be happy
for the rest of our loving days….
Beautiful, Sweet and Romantic Poems for Her
The poems in this collection are all intended to be beautiful, romantic and sweet poems for her to wake up to, however many of these could be used any time of the day to express your love and show her how much you care about her and love her. Choosing the perfect I love you poems for her can certainly be a challenge because love is a profound emotion, often tough to capture in words. So, if this collection didn't help you to completely put words to what you feel in your heart, we'd like to make sure that you are able to do so. We hope you both truly enjoyed these romantic and sweet good morning poems for her to wake up to.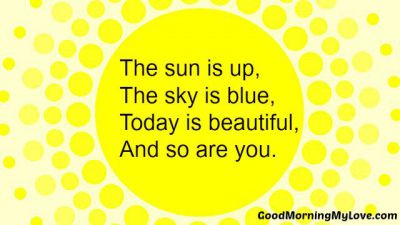 You could try reading through our collection of love poems for her to get some more inspiration. Or you could check out this truly awesome collection of cute love poems. These two collections of beautiful poems for her will certainly be more than enough to help you to find the perfect words for your girl.
Thank you for visiting us here and we hope you will return often to find more poems for her and continue to make her and your days more special and brimming over with love and emotion!
Looking for more cute poems for her? Check out love poems for her. Or looking instead for good morning quotes for her?