75 Good Night Quotes With Beautiful Images & Messages
May you and yours have a restful and peaceful night! And what better way to start the night than with some good night quotes? Here you will find our list of our heartfelt, beautiful, sweet and cute good night quotes and images.  You'll find the perfect words to send to your family, friends, for your sweetheart, your angel, your love, your co-worker, the yoga instructor who inspired you, your teacher whom you admire, your Facebook friend that you recently connected with and for all the people you care about. Good night wishes and good night messages can put the finishing touches on the day, help them wind down and even get a restful night sleep knowing that someone remembered them and cares about them.
Here you will find 5 collections:
1) Good night quotes for anyone
2) Good night images with quotes
3) Good night love quotes
4) Funny good night quotes
5) Quotes to wish family members a good night
After a long, busy, chaotic day wishing someone good night is a terrific way to help them transition into a restful or loving state and can serve as a peaceful, loving, inspirational or even a humorous motivation for them and for yourself. Nothing is a more powerful and encouraging way to say goodnight and sweet dreams that to send touching messages. For your sweetheart, these sugary sweet and romantic good night quotes and messages will be a nice surprise. Call them goodnight, whisper in their ears or text them as they get ready for bed and wander into the land of dreams. Just like good morning quotes, quotes at the end of the day can make a real difference in the lives of those important to you.
Motivate, inspire, share the love and start a wonderful tradition by saying good night in a more meaningful way!
You may also be interested in:
Good Night Quotes
Sending heartfelt, inspirational and sweet good night quotes for friends and those you care about is as easy as 1 2 3. Below are some of our favorite ways to wish someone a good night.
Close your eyes, take a deep breath and have a sweet dream. Good night!
The lights are off, time to sleep, goodnight to you, may you have the most wonderful dream. Have a restful night.
Cherish all the beautiful moments today and think about them when you go to bed at night for a good night sleep. Good night!
"Each night, when I go to sleep, I die. And the next morning, when I wake up, I am reborn." – Mahatma Gandhi
I hope you had a wonderful day today and may you have one again tomorrow and always. Have a good night!
The stars are bright, turn off the light, I wish you a sweet and sound good night.
The world is a better place to be because of you. Good night and sweet dreams.
"Good night, good night! Parting is such sweet sorrow, that I shall say good night till it be morrow." – William Shakespeare
The stars sparkle and shine like you do in my life. Have a good night sleep.
I am so lucky to have you in my life. Have a great night sleep and and I'll see you soon.
"Good night, and good luck." – Edward R. Murrow
Tomorrow is gonna be a great day so sleep well and wake up well. Have a restful night.
You are always in my thoughts and prayers. Have a great night sleep.
"I have loved the stars too fondly to be fearful of the night." – Sarah Williams
May my prayers bring you wonderful dreams and a blessed night sleep. Have a good night!
May my arms will reach you and hug you good night to wish you sweet dreams and to sleep tight.
"Music is love, love is music, music is life, and I love my life. Thank you and good night." – A. J. McLean
Good night, sweet dreams and know that I care and thinking about you.
The best link between sorrow and hope is a good night sleep. I hope you have a restful night and a wonderful day tomorrow.
"There was never a night or a problem that could defeat sunrise or hope." – Bernard Williams
Good Night Images With Quotes
If you or those important to you are more visual share with them one of these extra special good night images with quotes. Below are our top ones that you can easily share either by email, Facebook, WhatsApp or the method of your choice.
My day may be chaotic, my schedule may be busy but I won't let the day end without letting you know that I am thinking of you.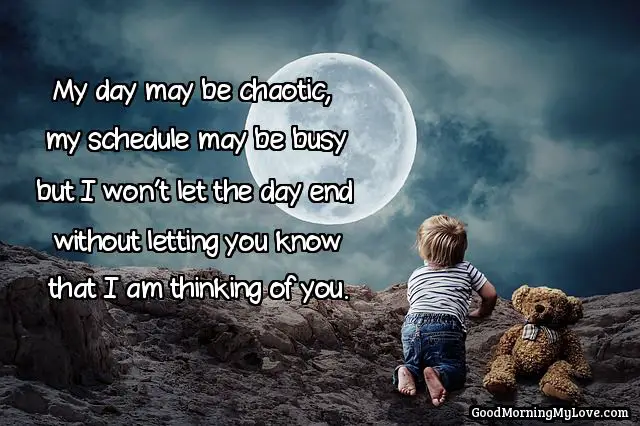 "I like the night. Without the dark, we'd never see the stars." – Stephenie Meyer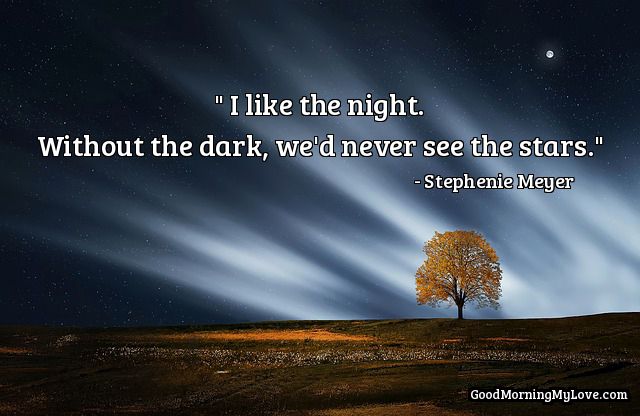 I have so many things to be grateful for and one of them is you. Sleep well.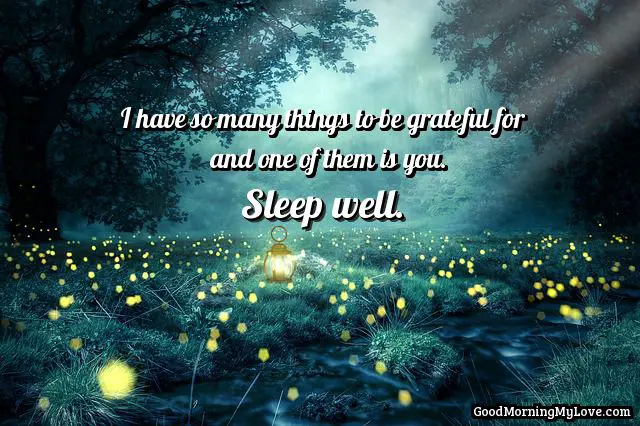 Even though we are apart, please know that I carry and treasure you in my heart. Good night.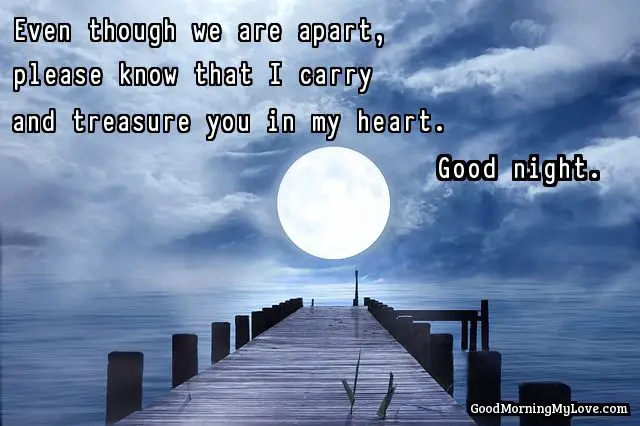 May all the stars in the sky brighten up your life every day and every night. Good night!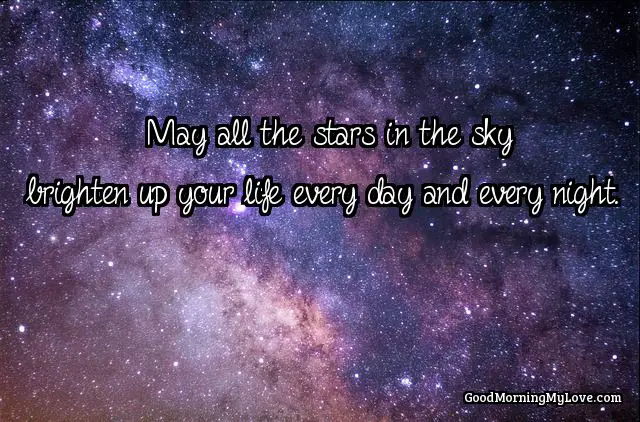 Good Night Love Quotes
If you are looking for something romantic, then this collection of love quotes is for you. Here you will find the best good night quotes for her or him. Give her the best winding down regimen with one of our romantic good night messages that will surely put a smile on his or her face.
My life is now better than my dreams, thanks to you.
How is that you are always in my mind when I get up, when I go to bed and all the time in between? Good night my love!
You are what I look forward to in the morning and the reason I love cuddling. Have a restful night.
I smile because of you when I get up in the morning and I smile because of you when I go to bed at night. Good night my love!
My nights are complete with you sleeping next to me. I'll see you in the morning my angel.
Dreams are wonderful because of you my love. Good night!
Good night my love, I'll see you in the morning.
Thank you for promising to marry me, when you said yes it was the world's greatest engagement wishes.
Have a good night, you sexy thing, I'll see you in my dreams.
I hope you know how much I love and adore you. Good night babe.
I promise to kiss you good night and wake up with you every day for the rest of our lives. I love you.
You are the star that shines and brightens up my life. Good night my love!
Today was bright and beautiful because of you. Have a good night sleep my darling.
I will fly on a like a superhero just to snuggle and be in your arms you tonight. I love you, sweet dreams.
I wish I am in your warm and loving arms tonight. I miss you so much. Good night my love.
Coming back home to you is the best part of my day. Have a good night sleep sweetheart.
My nights are sad and blue if I don't get to say good night and I love you.
Guess what I will be doing tonight? I will be stopping by to tell you I love you and good night.
Every night I pray that you will be protected and safe. I love you so much, good night babe.
May your dreams be filled with love and me! Good night.
Your smile gives me a good night's sleep. Being with you my dreams come true. I love you good night.
When you sleep tonight just know that I will always be here for you no matter what. Have a restful sleep love.
Funny Good Night Quotes
A little bit of silliness and humor is a good thing!  Make them smile and chuckle with these funny good night quotes. Giggle, laugh and make someone's night a little bit better. Some of these are romantic, some are for friends.
Hi, will you meet me in my dreams tonight? But first tuck me in. Have good night.
Monsters, death, destruction and disease! Those are all things you shouldn't think about before going to bed. Good night!
I'll be dreaming about you dreaming of me. Good night.
Did you know that good night quotes are a great way to transition into sleep? So, why don't you send me some?
I can't wait to marry you in the most breath taking location, with rainbows and butterflies, and a honeymoon cruise all around the world. In your dreams!
Have a naughty, sexy, dirty, spicy, racy, juicy, erotic, sweet dream. Just keep me out of it!
I miss you already, come back to bed and snuggle with me, as long as you bring chocolate.
Good night and sweet dreams, lollipops and ice cream, I am happy that you are on my team. Good night!
I am the man/woman who will be snoring beside you for the rest of your life. Till death do us part. I hope that doesn't give you a nightmare!
Just so you know, you drive me nuts but I still hope you sleep well.
Whats mine is also yours but will you please scoot over, you are on the side of my bed.
I really wanted to find the perfect way to wish you a good night, but I couldn't, so…good night!
More funny love quotes
Quotes To Wish Family Members A Goodnight
The family that wishes good night together stays together. Below are some of our loving and touching good night wishes for family members.
Sleep well, wake up well and I'll see your bright and happy face tomorrow. Good night.
I hope the ants won't come into your bed tonight because I am wishing the sweetest dreams to the sweetest person I know. Good night.
Everything's gonna be alright tomorrow. Sleep well and have restful night.
Good night my brother/sister. Thanks for always being there for me. I hope you have a rejuvenating sleep tonight.
I am grateful to have someone like you in my life. Have good night sleep and have a great day tomorrow.
Thank you for being so kind. Sleep well and wake up well.
Good night to the brightest star that this family have. I love you.
May God watch and guard you through the night and may you wake up well in the morning light. Good night.
Sleep will come to you for you are a good girl/boy it's true. Good night sleepy head.
Whatever your day has been don't let yourself from having sweetest dreams. I love you sweetheart.
We hope you enjoyed our collection of goodnight messages and good night love quotes. There is nothing better than getting a peaceful and restful sleep and sending one of these wishes will surely help your loved one achieve that! Good night and see you in the morning for some good morning messages!